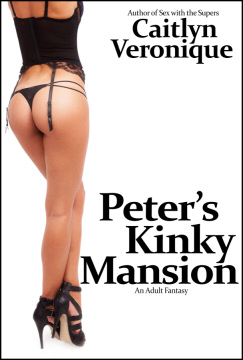 Peter is a millionaire who loves women.  The more the merrier.  His staff is all female, all women who enjoy his attentions and don't mind that he sleeps around.  This book is a series of snippets from his life, encounters with different women, threesomes, even a foursome.  The tales involve sex, anal sex, and more anal sex, as it's Peter's favorite thing.  There's M/M/F, M/F/F, M/F/F/F, and of course M/F.  The only question here is: who will Peter do next?
You can buy Peter's Kinky Mansion as an ebook at these locations:
Amazon Kindle
Apple iBookstore — coming soon
Barnes and Noble Nook
Carl's Adult Books
Kobo — coming soon
Excerpt:
He stood behind her, looking into the pot. His hands rested on her hips, slowly bunching the fabric of the skirt and pulling it higher. "Is it chili?"
"Something like that." She wiggled her ass a little, brushing it against his cock.
Peter pushed her skirt up to her waist, then palmed the two cheeks of her butt. "Very nice." As usual, she wore no underwear. It wasn't a requirement, but he liked it when his women went commando, and so they often did.
"I need to get something," Marla said. She walked across the room to the spice rack, her skirt still bunched around her waist.
On the way over, he got a good view of her tight, high ass. On the way back, her shaved pussy enticed him.
He still stood in the same spot, so she slipped back into position in front of him and added some spices to the pot. While she stirred, he bared her breasts and played with them, pulling on her nipples and pressing his cock against her ass while she stirred the pot.
She tasted the chili. "Good."
"Just good?"
She chuckled. "The chili's coming along well. Now it needs to cook for a while."
"Meaning you can spare a moment?"
She turned in his arms. "Meaning exactly that."
Peter held her gently so she wouldn't back up against the stove, then he sucked on her nipples and made them all hard and rosy red. "Beautiful." He looked into her eyes. "I'm going to fuck you now."